Tagged Pages Archive | Netherlands

There's an interesting little trick that allows you to fly from Winnipeg to Amsterdam (spend multiple days there), and then fly from Amsterdam to Tallinn, Estonia (spend multiple days there), and then back to Winnipeg - all for just $609 CAD roundtrip including taxes, and it's available on dates as far away as June 2016.
Here's how to find and book these flights
1. Go to www.Expedia.ca
2. Click on 'Multiple Destinations'
3. Try a search like this:
Flying from: Winnipeg (YWG)
Flying to: Amsterdam (AMS)
Departing: June 6, 2016
-=[ Flight 2 ] =-
Flying from: Amsterdam (AMS)
Flying to: Tallinn, Estonia (TLL)
Departing: June 10, 2016
-=[ Flight 3 ] =-
Flying from: Tallinn, Estonia (TLL)
Flying to: Winnipeg (YWG)
Departing: June 16, 2016
Here's a screenshot of what your search will look like on Expedia.ca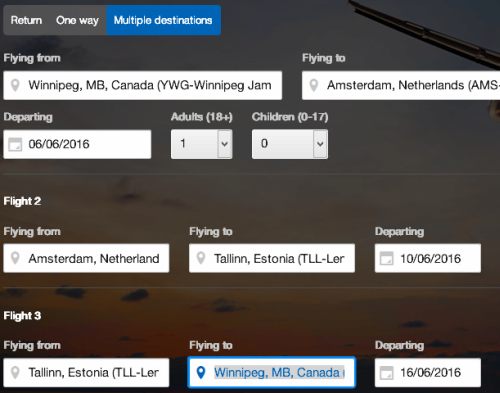 ...and here's a screenshot of the eventual booking screen from Expedia.ca :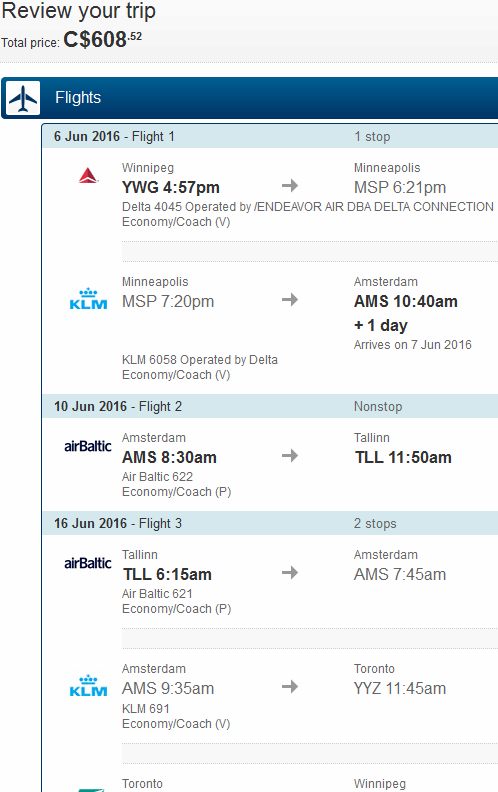 Note: You can adjust the date of -= [Flight 2]=- to spend more or less time in either Amsterdam or Estonia. Not all dates will work out to $609 CAD, but most of them should.
You can also substitute Paris, France (CDG) for Amsterdam and it might still work out to be quite cheap ($700 something Canadian).
You can also find this on other start and end dates besides June 6 to 16, but this was the closest date to summer 2016 travel that appears to be available at this price.
Other examples of start and end dates that will likely also work (experiment with your own dates for the middle flight):
-=[2015]=-

Oct 13 to 26
Nov 17 to 30
Dec 1 to 14
-=[2016]=-
Jan 12 to 25
Feb 16 to 29
Mar 15 to 28
Apr 12 to 25
May 16 to 26


Live deal discussion & travel advice
For live discussion of this deal, or to get some amazing travel advice (about anywhere) from your 8,000 fellow passengers in Winnipeg, join us in the
YWG Deals Facebook Group.
Hit Like if you like this deal! Click Share or Send to show your friends on Facebook.
Read more


There's a huge fare war to Amsterdam (AMS) going on at the moment. It's extremely rare to see the major airlines drop a price to Europe like this from Winnipeg.
Read more


Just noticing that flights from Fargo to Europe are really cheap at the moment, even cheaper than usual.
Read more